STI 2011
The 2011 pistol is the flagship gun of STI and is based on the 1911 frame, but with better parts and a double-stack magazine. In the past 25 years, thousands of customers have asked if they'd ever engineer a tactical or duty-use handgun. The good news is, they listened to their customers and used the decades of tactical and law enforcement experience to build some of the best guns we've ever seen. Every firearm they make is superior to their competition in accuracy, speed, and dependability. Today, we will be reviewing some of these models and explain why they're some of the best shooting pistol money can buy.
Diamond-Like Carbon
Diamond-like carbon or (DLC) is the newest and most technologically advanced coating anyone could use for their guns. DLC is is a Carbon composite with many of the positive characteristics of Diamond. DLC is used to coat the internal parts of the gun, along with a barrel and frame. They use DLC because it's proven to reduce friction between the internal mechanisms to prevent wear and tear. Its also shown to be entirely corrosion-resistant, chemically inert, and self-lubricating in dry environments.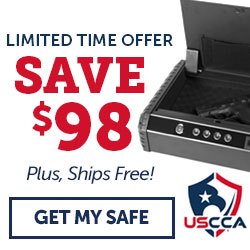 Take a look at one of their guns, and you'll never want to go back to another pistol that's not coated in DLC. Adding a DLC coating to stainless steel makes their 2011 models significantly harder while giving it a slick feeling, like Tom Cruise sliding across a wood floor with brand new socks (Who doesn't like Risky Business?). All of their pistols are coated with this extraordinary material to give customers some of the most durable, dependable, long-lasting, and accurate pistols on the market today.
STI DVC-C
The DVC-C is the concealed carry version of 2011 and is designed for optimal concealment and comfort while maintaining durability and accuracy. The DVC-C comes with a 3.9″ barrel and only weighs 1.6 lbs, making it lighter and smaller than their other models. One of our concerns is there are not a lot of holsters made for this model, so it can be challenging to find something you really want.
Obviously, concealed carry guns will need a smaller holster, but one that is still tactical. I recommend looking through this article to find what most concealed carry gun owners use and make your choice based on your personal style and need.
Specs:
| | |
| --- | --- |
| Caliber | 9mm |
| Width | 1.33″ |
| Weight | 1.6 lbs |
| Height | 5.12″ |
| Length | 7.57″ |
| Barrel Length | 3.9″ |
| Trigger Pull Weight | 4.5 lbs |
| Mag Capacity | 15+1 |
| MSRP | $3,000 |
Pros:
Very light
Incredible feel in your hands
Built for durability and toughness
Compact-perfect for concealment
Pinpoint accuracy
Great trigger
Cons:
Almost too expensive for most people
Recoil is more than others in the same class
Very hard to find holsters for this gun
Features:
DLC coating
Ambidextrous
Accessory rails for easy attachments
Dawson Precision Perfect Impact Sights
Why Should You Buy This Gun
STI has gone through a lot of effort to transfer their unique competition-style pistols to operationally capable for use as a duty pistol. Our only real issue with the DVC-C is the significant price point versus their competitors. However, there aren't many concealed handgun today that can match up with the capabilities of the DVC-C. This pistol is one of the best money can buy in today's market. If you're in Law Enforcement or a SOF soldier and you haven't tried this gun out, do yourself a favor and shoot this gun ASAP.
3-GUN COMPETITION
A 3- Gun competition is one of the flagship races in most marksmanship competitions in the United States today. The name of the 3-Gun competition is a shooting competition, in which each shooter gets to choose 3 guns to shoot during a shooting style obstacle course. Each shooter gets to pick from any AR platform rifle, a pistol, and a pump shotgun. 3-Gun is becoming one of the fastest-growing competitions we have today with thousands of professional and amateur shooters participating every year. As mentioned before, STI started out for this purpose in the beginning, and they take it so seriously that they created a gun specifically designed for the 3-Gun competition. As with any competition, practice is key to success, but many people don't know how to practice. Understanding shot placement and how your mechanics can make an impact on your placement is paramount to becoming a better shooter.
DVC-3
The DVC-3 pistol has been deliberately and skillfully designed and engineered for the 3-Gun competition. The STI 2011 Tactical Team has field-tested this gun with thousands of rounds each to make sure you're getting the best possible gun for this prestigious competition. The accuracy in this handgun makes it an incredible option to bring to this competition. The 5.4″ barrel provides a longer sight picture, giving shooters pinpoint accuracy at 25 yards. With enough practice, this pistol can easily shoot 50-75 yards with the same accuracy. If you're interested in 3-Gun competition and you're interested in winning these competitions, then why not buy the gun that sets the standard for accuracy and speed?
Specs:
| | |
| --- | --- |
| Caliber | 9mm |
| Width | 1.33″ |
| Weight | 2.2 lbs |
| Height | 5.55″ |
| Length | 9.06″ |
| Barrel Length | 5.4″ |
| Trigger Pull Weight | 2.5 lbs |
| Mag Capacity | 20+1 |
| MSRP | $3,000 |
Pros:
Aggressive grip prevents slippage from sweat or rain
Pinpoint accuracy
20-round double-stack mag
Trigger pull is incredibly light
DLC coating increases life by decades
Specifically designed for competition shooting
Looks incredible with the gold color barrel
Cons:
Very expensive
Would prefer other models for anything except competitions
Shoots more expensive ammo, adding to cost of ownership
Why Should You Buy This Gun
Any competition shooter will benefit significantly from buying a DVC-3 as their primary competition pistol. You should buy this gun if you've competed before, but want to do better or if you want peace of mind about the reliability of your pistol. This gun is costly, but the technology and effort put into this it will give you an edge over many other pistols. To avoid any issues with ammo you can always check on us
STACCATO-P
The Staccato-P model of 2011 is designed to give shooters a gun that can be used successfully in competitions and equally great as a carry pistol. The Polymer grip of the Staccato absorbs the force of the recoil, so you don't feel it in your hands. This allows you to focus on shooting without being interrupted by muzzle brake and recoil. Whether you're in a competition and being timed or a police officer fighting for your life, this pistol will give you the edge you could depend your life on.
Specs:
| | |
| --- | --- |
| Caliber | 9mm & .45 ACP |
| Width | 1.33″ |
| Weight | 2.1 lbs |
| Height | 5.6″ |
| Length | 7.93″ |
| Barrel Length | 4.15″ |
| Trigger Pull Weight | 4.5 lbs |
| Mag Capacity | 20+1 |
| MSRP | $2,000 |
Pros:
DLC finish
20-round mag offers plenty of opportunities
Comes in both 9mm &.45 ACP
Dawson Precision Perfect Impact Sights
Cheaper than most models
Incredibly accurate
As durable and reliable as a pistol could be
Cons:
Changing sights can be difficult if you don't have the right tools
Why You Should Buy This Gun
This gun is perfect for competition shooters, law enforcement, self-defense, or use in our nation's military. Home-owners who don't already have a home-defense pistol could go to sleep every night knowing the .45 ACP model has the stopping power to demolish the biggest of intruders with impeccable accuracy. The aggressive polymer grip will take away most of the recoil and give you the confidence you need to keep your family safe.
ACCESSORIES
Most of the accessories added to the STI are to eliminate time for target identification and increase the sight picture in low light environments. The accessories that are going to be most relevant to discuss are the different sights, optics, and lights you could put on any STI pistol.
Dawson Precision Perfect Impact Sights
Dawson Precision Perfect Impact Sights are the best sights for any type of pistol imaginable. The first thing to know about Dawson Precision is their "No BS" promise that you'll be receiving the highest quality part you could ever buy. This promise comes with a guarantee that they'll help you zero your pistol if you buy a sight from them. Any company willing to replace a sight if it's bad and guarantee a perfect zero for your gun is a company worth buying from. Another great thing about Dawson Precision is the extraordinary amount of sight pictures for people with less than perfect vision. All of their guns come with Dawson Precision Perfect Impact Sights because they refuse to settle for anything but the best.
SUREFIRE X300 ULTRA WEAPON LIGHT
The SureFire X300 Ultra is one of the best lights you could put on any gun, not just on STI pistols. This specific light puts out 600 lumens of white light that, using a Total Internal Reflection (TIR) lens for a superior tight beam, will overwhelm your adversary. This light is arguably indestructible, aside from an actual bomb hitting it, and will give you almost 2 hours of consistent light per battery. The standard accessory rails will accommodate any SureFire light and will make the difference when you need an edge.